UX Design
in partnership with Talent Garden Innovation School
WEB & APP INTERFACE - USER EXPERIENCE - DESIGN
Become an expert Ux Designer to design a smart, fast and intuitive user experience which is able to satisfy the needs and wants of users
Our Executive Master in UX Design, in partnership with Talent Garden Innovation School, offers participants the necessary tools to strategically design the user experience, analyzing how people perceive a given experience, digital or otherwise.
The UX Designer comes up with effective solutions for design problems, ensuring smooth usability with a high conversion rate.
At the end of the Master, therefore, students will be UX Designers able to:
Identify users' needs and validate their behaviors
Define user requirements for the creation of highly usable and accessible interactive systems
Apply the most recent Human Centered Design methodologies;
Understand the logic of prototyping tools and use Axure and Figma professionally
Implement a static and dynamic prototype
Read and interpret HTML and CSS
Manage the process of a project independently
Create their own project from scratch and know how to present it in public
In addition to technical skills, the Master includes a Career Boost path that prepares you and brings you closer to the job market, to get you started immediately in your career as a UX Designer.
At the end of the course, participants will get 24 ECTS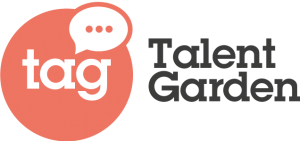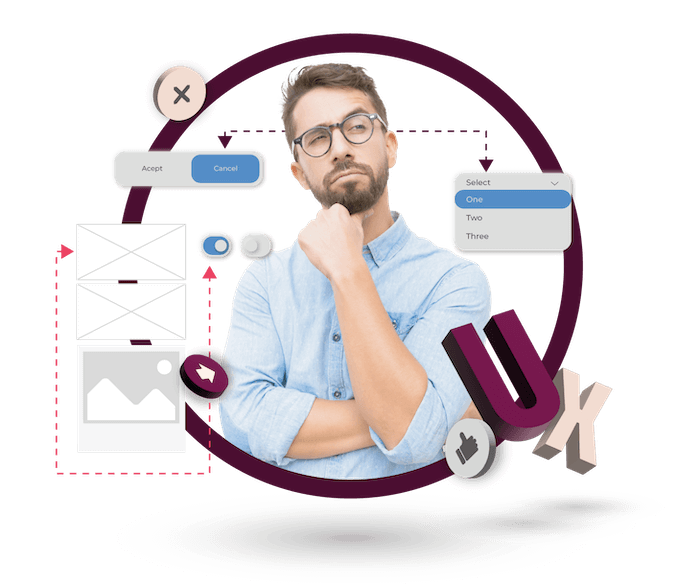 UX Intro, Research & Mapping
Students will learn about users by analyzing their needs and wants. They will learn about User Research, behavioral analysis and experience analysis and understand the meaning of concepts such as Personas and User Journey.
Skills that will be acquired:
Defining a research protocol
Conducting user research and profile them
Mapping and analyzing the different user experiences
Tools & Methodologies Tools & Methodologies
Discovery interview
Surveys
Guerrilla UX
Journey mapping
Human Factor, Interaction Design & introduction to Prototyping
Students will study the recent approaches of research and design of human-machine interaction, which are useful for translating the complexity of interactive systems into pleasant and usable user experiences with fluidity. They will learn about Human-Computer Interaction models and will deepen the concepts of Cognitive Psychology & Ergonomics and iterative design. Finally, they will deal with the themes of typography, grids, icons and language.
Skills that will be acquired:
Knowing the principles of human-machine interaction. Defining user objectives and develop tailor-made solutions
Analyzing tasks
Making prototypes
Tools & Methodologies
Scenario based design
Multimodal design
Static prototyping
Dynamic prototyping with advanced tools (Axure)
Mocking (Invision Studio)
Prototyping & Information Architecture
Students will find out how to organize information in a better way in order to build an effective cognitive path for the user. They will also learn about mind mapping, labeling and taxonomy and will deepen the main search and navigation mechanisms.
Skills that will be acquired:
Analyzing and rationalizing a large amount of data and information
Developing an information architecture
Conceiving a taxonomy
Tools & Methodologies
Card sorting
Data modeling
Design patterns
Information Architecture, UI Design & Usability Engineering
Students will learn how to test interface solutions to make them more user-friendly, thanks to UI Design principles, guidelines and best practices. They will discover the most used tools and protocols (cognitive walkthrough, cognitive task analysis, think-a-loud), what the RITE method consists of and the various test evaluation methods.
Skills that will be acquired
Testing and implementing user-friendly solutions
Validating concepts
Tools & Methodologies
Formal usability test
Agile testing
UI Design & Visual Communication
Students will learn how to use visual components to integrate brand experience elements into their designs. They will learn the concepts of visual & motion design and how they flow into the process of working on the digital product.
Skills that will be acquired
Integrating the brand experience into one' projects
Conceiving layouts and grids
Making the best use of typography and color elements
Applying animation techniques
Tools & Methodologies
SUI drawing tools
Digital brand design
UX Management
You will study how to organize work the best in order to create user experiences that can create a real competitive advantage for the company, taking into account the current regulations and the legal context.
Skills that will be acquired
Organizing work effectively
Managing constraints linked to current policies and elements of compliance
Tools & Methodologies
Design sprint
Lean UX & Agile
FILL OUT THE FORM
to receive more information.
We will contact you within a few hours.